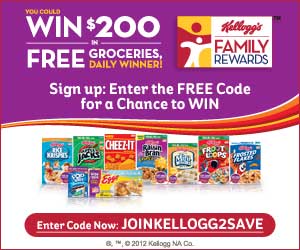 Have you noticed codes in your Kellogg's boxes yet? If not you will because Kellogg's has launched Kellogg's Family Rewards! This new rewards program will reward you for all of your Kellogg's purchases.
Click the banner to sign up and then you can enter codes, collect points, and earn awesome rewards and family fun! You'll also receive the latest and greatest benefits from Kellogg, like exclusive savings, great-tasting recipes, and special offers, promotions and of course Coupons!
PLUS I just receive a coupon for Save $0.50 on any one box of Kellogg's Cereal or Poptarts!